There's been a healthy injection of tribal prints in the stores and it's a look you can work into pieces you already have. The bold graphics wake up your wardrobe basics and really spice up them up. You can easily tone them down by slipping on a cardigan or jacket on top or play them up and make the print the center of attention. Maybe it's just me, but when I see a woman in a funky, colorful, graphic print, it makes me think she's artistic, easy-going and probably knows where to find a great pair of dangling earrings. I also think, she's got to have a sense of humor, because who could be serious in this joyous riot of color and pattern!
The look from TurquoisePassion from Austin, TX (above) is dead on for a cocktail party, date night or girls' night out. If you wanted to take this look to work, just switch out the flowy skirt for a pencil skirt or slight a-line and you're good to go. It also would be perfect with pants or crops. You could do so much with this one top — I love it!
The second look by LissaKahayon of Manila, Philippines takes a colorful tribal skirt (which she wore as a top last year and then shortened it) and works it as a great transitional piece. She's showing hers with bare legs and a tank top, but I could easily see this with a pair of tights, lace-up ankle boots or knee-high boots as well when the weather is cold. Great for work and casual.
Lastly, I came across another winning look from Annebeth from Antwerp, Belgium. You might remember her from another posting earlier this year in May, when I did Loving: Modern Prairie. I swear I'm not stalking her, I just loved how she styled this tribal top and high-waisted pant and then I realized it was the same fantastic girl from before. Obviously, she had loads and loads of style. At first blush, this might look like a simple top and pant combo, but when you look more closely you can see that Annebeth layered her tribal print top with a smaller print scarf in red and then topped it off with a gold filigree necklace. This is exactly how to mix prints with one big print as the focus and then adding a smaller print to complement it. Usually, you'd find common ground between the prints with one of the colors, but I'm sure even that's a guideline to break.
Enjoy these tribal looks from these three style galleries via Chictopia.com today. I think you'll like incorporating a tribal piece into your fall/winter wardrobe. I've already been happily sampling this look. A few months back, I stumbled upon an ikat print tank top at Urban Outfitters and being reasonably priced, I bought it without even trying it on (which I never do). In the two months I've had it, I've worn it probably six times already, both casually and dressed-up for dinner with friends. It's one of those pieces that I'm so glad to have.
On the Hunt Locally: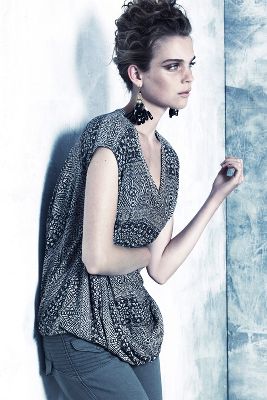 Or click on a picture to find online retail for these Tracy Reece, DVF or Asos tops:
Have a great day!